We Offer Safe and Secure Acid Storage Cabinets to Protect your Lab
Our Acid Storage Cabinets come in standard 30, 45, and 60-gallon sizes as well as Countertop, Undercounter and Piggyback styles. All models feature the same quality features including double-wall construction, dual vents, grounding wire connections, adjustable shelves, leakproof sills, three-point self-latching doors, and leveling feet.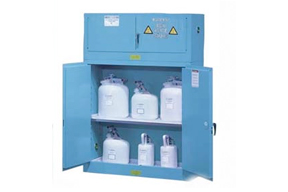 To resist aggressive chemicals, acid storage cabinets also include polyethylene trays attached to galvanized steel shelves and a separate polyethylene liner for the bottom sump. The liner can be removed for easy cleaning of drips and leaks. The popular 30-gallon two-door cabinet also includes an extra polyethylene top work tray which can be secured to cabinet top for a handy work surface.
An all epoxy baked-on powder coat finish, inside and out, provides increased chemical resistance. Paint is exclusively formulated to resist the acids, bases, and solvents often used in laboratories.
For more information about our specialty cabinets, please call 770-932-1118 or email.
Contact Us at Laboratory Design & Supply