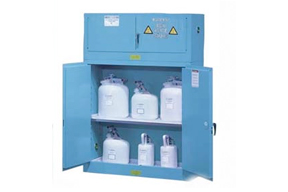 Our Acid Storage Cabinets come in standard 30, 45, and 60-gallon sizes as well as Countertop, Undercounter and Piggyback styles. All models feature the same quality features including double-wall construction, dual vents, grounding wire connections, adjustable shelves, leakproof sills,..
We Can Make Lab Cabinets, Lab Furniture and Casework to Order
Laboratory Design & Supply can provide heavy-duty lab cabinets for your research, quality control or educational lab environment.  Our product line includes wood, metal, laminate, polypropylene, stainless steel and phenolic resin units.  We also specialize in flexible modular cabinets. We offer our lab cabinets, lab furniture and casework in a wide variety of sizes so that it can fit any space imaginable.
We also work with various custom fabricators who can make products to your drawings and specifications.  LabDS sells lab cabinets in a very wide variety of configurations and sizes to meet any project need you might have.  Our products are made to the highest standards to give you maximum value for your dollar.  After all, shouldn't your lab cabinets last?
Our services only begin with great products.  We employ a team of experienced estimators and project managers to help you work through your project. Your project manager will help you select the best material options for the job and then work with you to get the items shipped and installed.  We install projects all over North America.
Laboratory Design and Supply Inc. can create your lab space from a variety of sizes and styles to give you the perfect work environment. We feature top brands such as Labconco, Durcon and Watersaver.  Our combination of superior materials, timely delivery and an experienced installation team will ensure that your project is completed to your satisfaction.
We ensure the highest quality materials so that you can have the best lab cabinets in your space. We focus on accessibility so that your lab cabinets will best serve your purpose.
Features and Benefits:
Several options for materials
Flexible sizing
Shipping and installation
Our design specialists and project managers are ready to help you take the next step toward the completion of your lab renovation/construction project. For additional info about how we can help you get started, please call 770-932-1118 or email us.
We offer Specialty Lab Cabinets Types for all of your Lab Design Needs
Specialty Lab Cabinets can include narcotic and specimen cabinets as well as cabinets for storing acids, pesticides, paint and flammable substances. The construction and finish on these cabinets is specially designed for highly flammable and corrosive chemicals.
Compliance with the National Fire Protection Act (NFPA) is essential as is compliance with EPA and OSHA workplace safety regulations and guidelines. Our specialty cabinets are labeled accordingly in order to keep your employees safe when handling these potentially dangerous substances.
Many labs are highly specialized according to the industry or product they are working on. It is important to have lab cabinets that are specialized for that purpose as well. We produce high-quality lab cabinets for any and all needs.
Specialized for industry/product
Safe
Compliant to federal standards
Toluene
Xylene
Nitric Acid
Acid
Alcohol
Hydrofluoric Acid
Gasoline
Butane
Roundup
Paint
Paint Thinner
Acetone