Experienced Laboratory Relocation Project Managers
Whether you are downsizing, consolidating or expanding your laboratory facilities, call us first! LabDS specializes in laboratory relocation and laboratory renovation. Due to a stressing economy, many corporations are downsizing or consolidating their facilities. When doing so, up to date laboratory facilities are left behind and new furnishings have to be purchased and installed at the new facilities. LabDS specializes in laboratory relocation and laboratory renovation.
The first questions that come up are "Can it be relocated?" and "Will these items fit into our new location?" In order to answer these questions, LabDS will send a representative to view both the present and future facility and then interview the lab workers to see what improvements they would like to see happen during their transition. LabDS will then measure and individually label each cabinet, countertop, backsplash, fixture and any miscellaneous items so that a detailed CAD drawing can be provided of the existing facility.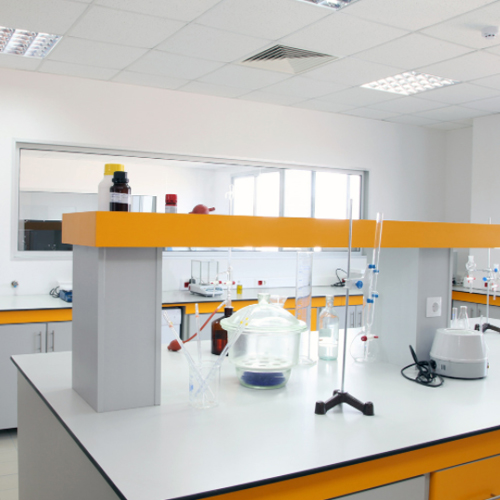 During a laboratory relocation, a detailed CAD drawing will also be provided of the new facility so that all of the items in the existing lab can be strategically located in the new facility. This drawing will enable the customer to know exactly where the items will or will not fit, what each elevation will look like and how much working space will be available and to determine if laboratory renovation will be necessary for the new facility.
In the event that the new lab location changes in size or configuration, LabDS will reconfigure existing casework and countertops in order to minimize the purchase of any additional items. In the event that any additional items need to be purchased, LabDS can provide additional laboratory casework, countertops and any other items that need to be purchased in order to meet the working requirements at the new facility.
With the help of the lab managers, LabDS will provide a working schedule of the laboratory relocation process. This schedule will detail the relocation of all items from the old facility to the new facility and give the lab managers a timetable to enable them to plan around the downtime.
Once all of the necessary details are finalized, LabDS will be responsible for the disassembling of the laboratory furnishings, wrapping in protective coverings, palletizing, transporting, unpacking and then reinstalling all items at the new facility. When laboratory facilities' downtime and financial limitations are critical, laboratory relocation has proven to be an effective solution.
Let us help you meet your laboratory relocation or laboratory renovation needs today.
For more information about laboratory relocation or laboratory renovation, please call 770-932-1118 or email them here.
Contact Us at Laboratory Design & Supply