We have whatever type of fume hood you need for your lab!
A fume hood is a device used to limit exposure to toxic fumes and vapors. Most often used in laboratories, these units are vital for securing personnel safety around harmful chemicals.
Depending on the type, the unit either funnels the chemicals outside to prevent contamination of a small lab space or it filters out the fumes via a certified filter. A fume hood is a box-like units with a tall base to allow use while standing. For effective use in all types of laboratories, units come in several shapes and sizes and filter a variety of fumes.
Different labs require different measurements, so there are several types of fume hoods to choose from. LabDS provides a variety of fume hood sizing options to encompass every potential laboratory need.
A fume hood is an effective way to get rid of odors, fumes and harmful reactants in laboratory environments. However, if not used properly, they may not keep the user as safe as needed. Follow these steps when using a fume hood in order to ensure complete lab safety for the user.
Custom Fabricated ADA Fume Hoods to meet your ADA lab environment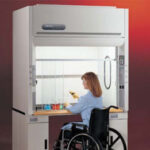 4′ Protector XL HOPEC IV Laboratory ADA Fume Hoods, ADA-compliant hand-operated, positive energy control design (HOPEC), 8.69″ ID exhaust connection, stationary glass viewing panel, yellow flush sill/air foil with spill trough, chemical-resistant molded composite panel liner and adjustable baffle, 1/4″ thick tempered safety glass vertical-rising counterbalanced sash, front and interior access panels, ADA-compliant light, switch and digital airflow monitor, glacier white, dry powder epoxy-coated steel exterior.
Extractor Arms Fume Hoods
Let LabDS Quote Extractor Arm Fume Hoods to Meet Your Needs today!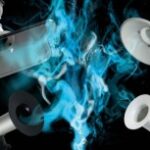 Our Extractor Arm Fume Hoods are primarily used for local fumes, odors and air streams. Most labs use a 2″, 3″ or 4″ diameter arm. The size of the arm is determined by the airflow that you need.
Our extractor arms feature a versatile bench, ceiling or wall mounting capability so you can place the arm where it suits you best. From self-assembly kits to tailor-made solutions, our arms are available in self-assembly kits, which include a fan and filter, a fan speed controller, hoses, table bracket and connectors. The kit provides a quick and convenient solution for creating a fume-free workplace.
Six different extractor arm fume hoods kits are available. We have both the products and the experience required to create customized extraction solutions, large or small.
Our benchtop extractor arms can be used in every type of environment, ranging from assembly stations, where solder fumes are extracted, to laboratories, where protection against highly corrosive or noxious gases is vital.
Fume Extractor Hood Armature Options
The ORIGINAL benchtop model is a robust and reliable all-round arm for general applications where there is little risk of electrical discharges or attack by aggressive chemicals
The ESD/EX bench top model is designed for use in electronic environments where there is a risk of electrostatic discharges. Following risk assessment, the ESD/EX can also be used for certain applications in explosive environments. The arm is made of conductive materials, eliminating the risk of static electricity and sparks. The hood is made of anodized metal
The CHEM bench top model has profiles made of double anodized aluminum. The arm is ideal for fume extraction in aggressive environments where corrosion resistance must be assured.
If you are installing one of our extractor arm fume hoods yourself, please download the installation instructions. These will help you with either a wall or ceiling mount application.
Fume Hood Accessories at Prices You Can Afford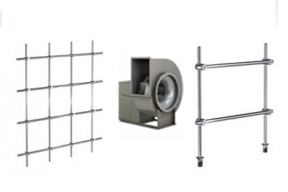 Lab blowers including epoxy-coated steel, all-PVC, polypropylene, fiberglass reinforced plastic and explosion/spark-resistant models. We have units to meet your electrical requirements whether they are wired for single-phase or three-phase usage. We also can provide in-line axial fans for applications that cannot accommodate rooftop mounted blowers.
Fume hood and ventilation ducting including PVC, aluminum, stainless steel and traditional sheet metal. We can have duct transitions made to meet any configuration you might have.
Lattice rod assemblies for distillation rack applications. Supplied by Watersaver, these functional units can be arranged to meet the dimensional requirements of your lab so that processes flow to meet your needs.
Replacement fume hood remote control fixtures are available from cold water to natural gas, vacuum, nitrogen or hydrofluoric acid.
LabDS also provides fume hood alarms, airflow monitors and sash stops to meet all of your performance needs
If you need a new fume hood work top, we can help you with that too. We can also provide installation services for your new hood top.
Custom Fabricated Low Flow Fume Hoods for Energy Savings!
Benefits of Low Flow Fume Hoods
You want to save as much as 40% on your energy bill long term. That's definitely a good enough reason to buy a low flow fume hood system. Low flow hoods can pass ASHRAE hood testing operating at approximately 60% of what a standard airfoil bypass hood operates at. This means smaller and less powerful blowers for you to purchase, maintain and replace.
It also means that you can reduce the amount of conditioned air that you have to pump into the room where your hoods reside. This means smaller air conditioners, furnaces and air handlers.
These savings could mean thousands of dollars over a 6-10 year period. Money that you could use to bolster your research and development, hire new staff or invest in new equipment.
Although your safety officer or industrial hygienist will determine the actual face velocity setting for your laboratory, the ability of our low flow fume hoods to contain under these adverse conditions sets a new standard of safety.
Safety is foremost, but energy savings are equally impressive. Although face velocity is a factor, it's the volumetric rate (CFM) that determines the energy consumption of a fume hood. Operating a 6′ Protector XStream Hood at 60 fpm face velocity, with the sash in its fully open position, requires only 690 CFM.
Regardless of your desired operating face velocity, the Protector XStream yields the lowest required CFM.
4′ Protector XStream Laboratory Fume Hood, by-pass airflow design, patented Rear Downflow Dual Baffle System, aerodynamic air foil with Clean-Sweep openings, chemical-resistant molded composite panel liner, 3/16″ thick tempered safety glass vertical-rising sash with containment-enhancing perforated sash handle, Upper Dilution Air Supply, 12.81″ ID exhaust connection, ADA-compliant light and blower switches, sash stop at 18″ sash height, front and interior access panels, at 60 fpm this hood exhausts 440 CFM at 0.08″ H2O static pressure, glacier white dry powder epoxy-coated steel exterior.
We have included a PDF about Labconco Xstream Low Air Flow Chemical Hoods for your convenience.
Perchloric Acid Fume Hoods
Custom Fabricated Perchloric Acid Fume Hoods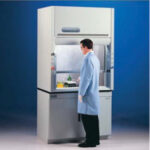 Protector Stainless Steel Perchloric Acid Fume Hoods are designed specifically for all procedures in the laboratory involving the use of perchloric acid. They feature wash down systems, integral work surfaces and drainage troughs so that they may be thoroughly rinsed after each use to prevent the accumulation of potentially reactive perchloric salts.
Available in 4, 5, 6 and 8-foot widths, this benchtop laboratory chemical fume hoods feature a corrosion-resistant Type 316 stainless steel interior to withstand reaction from perchloric acid. Our Perchloric acid fume hoods also feature an integral one-piece stainless steel worksurface. The one-piece liner is free of joints, cracks or crevices to prevent the build-up of residue and simplify all decontamination procedures.
Perchloric Acid Fume Hoods Features:
constructed of stainless steel features exclusive unitized dual wall construction for superior chemical resistance, strength,and durability. Rear drain trough is integral to superstructure. Fume Chamber type 316 stainless steel fume chamber and baffle. Dedicated wash down with integral piping spray nozzles & remote control on column
integral stainless steel work surface for superior acid resistance and durability
removable to access ducting connections, wash down system, and electrical services from a single point electrical box,115V/60Hz AC operation. Energy efficient explosion proof light fixture, with light switch on left column, all factory installed.
by pass airflow design
energy efficient fluorescent light fixture
tempered glass vertical rising sash system
sold with internal duct ring wash down nozzle system
115v light switch and blower switch prewired at the factory for ease of installation
ASHRAE tested at the factory
Ductless Fume Hoods for Safe, Precise Handling and Weighing of Powders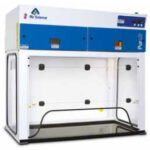 DUCTLESS TECHNOLOGY:The Eco-friendly Choice
Advanced carbon filtration technology offers a safe, high performance alternative to conventional ducted fume hoods for a broad range of applications.
Environmental Benefits. LabDS ductless fume hoods isolate and trap chemical vapors to prevent ecological impact through release into the environment.

Versatile. Each filtration system is selected for its specific application. The Multiplex Filter broadens the range of applications. Carbon filters are available in more than 14 configurations for use with vapors or organic solvents, acids, mercury and formaldehyde. HEPA/ULPA filters can add to biological safety.

Easy to Install. The ductless fume hood is self-contained and does not require venting to the outside. Many units are portable and may be moved from one location to the next with minimal downtime and without filter changes. Set-up, operation and filter maintenance are straightforward.

Energy Efficient. Because filtered air is returned to the room, no demands are required of the facility HVAC capacity for make-up air.

Cost Effective. Facility ductwork, HVAC and construction costs are eliminated.

Safe to Use. Cabinet airflow and face velocity protect users from incidental exposures to fumes.

Self testing. (selected models) Electronic air-flow monitoring assures continuous safety. An electronic gas sensor monitors carbon filter performance.
PRODUCT FEATURES:
A. Filter I.D. Window: A strategically placed front cover window shows the installed filter part number and installation date for convenience and to encourage timely filter replacement.
B. Air Velometer: (Optional) An analog air velocity meter in the field of vision of the user.
C. Hinged Front Sash: When closed, the cabinet sash protects the contents from inadvertent external contact, and better isolates the air within. The sash is easy to open and close.
D. Control Panel: Electronic controls and displays include switches for the blower and low airflow alarm.
E. Steel Support Frame: The chemical resistant epoxy coated steel frame adds mechanical strength. Optional all polypropylene construction is available if desired; see Accessories.
F. Electrostatic Pre-Filter: The 99.5% effective electrostatic pre-filter is accessible from inside the chamber to contain the release of any particulates that it traps. The pre-filter can be changed while the unit is operating to prevent operator exposure to chemical vapors.
G. Pass Through Ports: Electrical cords and cables are safely routed into the cabinet through ports on the back and side walls.
H. Color: The cabinet is white with blue trim; side and back panels are clear.
I. Airflow Alarm: A continuous air velocity monitoring system alerts the operator upon unacceptable values.
J. Internal Manual Speed Controller: Authorized personnel may set the centrifugal fan motor speed as desired.
K. Stand: Optional mobile cart with locking casters.
L. Work Surface: The internal work surface can be fitted with an optional polypropylene tray; see Accessories.
M. Filter Door Key: Filter access keys prevent unauthorized removal or accidental exposure to dirty filters.
OTHER FEATURES:
360 Degree Visibility: Clear back and side panels allow ambient illumination into the chamber and provide users with an unobstructed view of its contents.
Standards Compliant: Performance specifications and construction meet or exceed OSHA, ANSI and relevant international standards to assure operator safety.
Construction: All models are available in either metal or polypropylene construction. See selection chart for specifications and dimensions. Specify metal or polypropylene when ordering. Available in 110V, 60Hz or 220V, 50Hz models.
Steel Support Frame: The chemical resistant epoxy coated steel frame adds mechanical strength. Optional all polypropylene construction is available if desired.
Custom Biosafety Cabinets to keep you safe!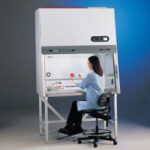 Infectious Disease Fume Hood Exhaust Processing
If you are involved in research for HIV, Hepatitis B or other dangerous communicable diseases, you should consider using a biosafety cabinet for the protection of your research employees. Chemotherapy solutions are also generally formulated using a biosafety cabinet because it provides superior protection for the user.
You can choose from total recirculation models, partial exhaust models or total exhaust models. We provide replacement filters so you can keep your employees safe and reduce the potential exposure to harmful viruses and other diseased samples.
4′ Purifier Delta Series Class II, Type A2 BioSafety Cabinets, for work with agents that require Biosafety Level 1, 2 or 3 containment, and antineoplastic drug preparation. This cabinet provides personnel, product and environmental protection. Approximately 70% of the air that moves through the cabinet is recirculated, 30% is exhausted.
Exclusive Delta features:
Safety color-coded and epoxy-coated steel towel catch, sash pocket and perforated exhaust filter cap
10º angled, sliding, fully-closing, 0.25″ tempered safety glass sash with anti-racking mechanism, tactile position indicator and 18″ maximum loading height
Air-Wave™ entry system
Stainless steel air foil with Reserve-Air™ Secondary Airflow Slots
Contain-Air™ Negative Pressure Channel
Eye-level, ADA-compliant, inside-mounted Minihelic II pressure gauge
ADA-compliant, single fluorescent light and blower switch
ADA-compliant audible/visual alarm indicator with mute switch
Sure-Start™ voltage-compensating speed control with 40 amp capacity.
Other features:
Nominal airflow velocity of 105 fpm; nominal downflow velocity of 55 fpm
Intrinsically-safe negative air pressure design
Two 99.99% efficient HEPA filters; thermally-protected permanent split capacitor motor/blower(s)
Unitized 16 gauge stainless steel substructure
Crevice-free type 304 stainless steel interior and removable, seamless dished work surface and epoxy-coated exterior.
We have included a PDF about the Purifier Delta Series Fume Hoods for your convenience.
Custom Radioisotope Fume Hoods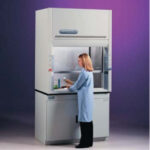 Laboratory Design and Supply is pleased to offer a variety of radioisotope fume hoods. LabDS will work with you on the design of your hood so that it meets your needs and size requirements.
We can also provide you with the proper blower system and ductwork including explosion and spark resistant fiberglass, polypropylene and pvc blowers. Large or small, LabDS is your source for radioisotope hoods.
Protector Stainless Steel Radioisotope Fume Hoods feature a seamless Type 304 stainless steel liner with integral work surface, by-pass airflow design, 11″ OD exhaust connection, ergonomic air foil with aerodynamic Clean-Sweep airflow openings, 3/16″ thick tempered safety glass vertical-rising sash, ADA-compliant light and blower switches, front access panels and a black enamel-coated hardboard surface to support the integral work surface.
Your new radioisotope fume hood will require a corrosion resistant blower made from either PVC, Polypropylene or Fiberglass-Reinforced Plastic. LabDS will help you size the correct blower for your application when you contact us.
A glacier white dry powder-coated steel exterior is standard. 
Custom Polypropylene Fume Hoods for Acid & Corrosion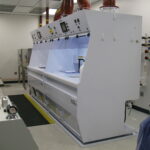 LabDS Custom Polypropylene fume hoods are engineered to hold up to the most acid-rich environments including, but not limited to, exposure to hydrochloric, nitric, hydrofluoric and sulfuric acids.
The stress-relieved polypropylene will resist these materials and give you great performance and durability through the years. Most of our polypropylene fume hoods come with integral polypro base cabinet units to make for a simple-to-install hood assembly. Just slide the assembly off the pallet, and set it into place. Hook up your mechanical, electrical and plumbing fixtures and balance the airflow using a butterfly damper or an electronic sash control module.
Advantages of Polypropylene Fume Hoods:
Extremely durable and long-lasting
Totally resistant to odors
Non-porous so they're suitable for food research labs
Counter balanced front sash with tempered safety glass, for smooth operation and added safety
ASHRAE tested at the factory for highest performance and for your peace of mind
Superior airfoil design that reduces turbulence and eliminates air backflow
Fixtures prewired and prepiped at the factory for easy connection by your mechanical installation professional
Manufactured to SEFA standards
Suitable for wet process, laminar flow, cleanrooms, containment, and custom environment solutions
Available in white, black and clear finish options
Palletized for less expensive shipment by common carrier nationwide
Polypropylene Fume Hood Options:
Remote control air, natural gas, vacuum, oxygen, nitrogen, acetylene and other services
Electrical services ranging from 115v single phase to 440v three phase
Variable Air Volume Controls
Sash stops
Airflow alarm systems
Custom size sinks
Explosion/spark resistant light fixtures
Managed/automated wash down system
Custom Variable Air Volume (VAV) Hood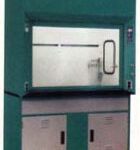 The Variable Air Fume Hood is specifically designed for use with exhaust control systems provided by other manufacturers that monitor and control the amount of air being exhausted from the Hood. The use of these devices will maintain a constant face velocity and greatly reduce the operating cost of the Fume Hood.
Design
A lintel at the upper front of the superstructure restricts the Hood air intake to the front sash opening. By incorporating any one of a number of commercially available VAV controls, the exhaust volume of the Hood can be varied to maintain a specified face velocity regardless of sash position.
The full view sash provides a clear, unobstructed view of the work surface and when fully opened, allows easy access to all areas of the Hood interior. The sash is counterweighted for easy up/down operation and is made of 7/32″ laminated safety glass with a full-width flush pull.
The lower airfoil acts as a sash stop designed to provide a 1″ gap (with sash closed) allowing air to continuously sweep the countertop of the Variable Air Fume Hood.
Double sidewall Hood construction provides adequate space for mounting service fixtures. The interior "Resin-Chem" lining has removable access panels on either side providing easy access for installation and maintenance of service and electrical fixtures. Both exterior side panels of the Hood superstructure are also removable for access to lines.
Interior Lighting
A twin tube fluorescent light fixture provides illumination of the Variable Air Fume Hood interior surfaces. The fixture is recessed into the interior Hood ceiling and protected behind a sealed safety glass panel away from hazardous vapors and corrosive fumes. Tubes (included with Hood purchase) are easily replaced from the outside of the Hood superstructure.
Options
A variety of optional service fixtures are available from LabDS for installation in the Variable Air Fume Hood. Mounting holes for fixtures and electrical receptacles are pre-cut and capped when fixtures are not required.
Custom Floor Mounted Walk In Fume Hoods for your larger Lab Accessories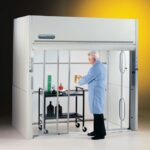 Walk In Fume Hoods are a great way to handle odors and toxic fumes from drums, processing units and distillation assemblies. All of our hoods are made to order, so making them to your size requirements is no problem. A popular option for many walk in fume hoods is the lattice rod assembly for hanging beakers and test tubes.
Your Walk In Hood can feature accessories like air, gas, vacuum, nitrogen, helium, acetylene or any other type of gas. Sinks can be plumbed into the side panels of the hood for water or other waste drainage. Electrical outlets from 115v to 440v can be wired for your convenience.
We also provide blowers for your hood including acid-resistant types like fiberglass, polypropylene and PVC for demanding corrosive and acid-rich environments.
Note: our walk in fume hoods are generally shipped already assembled so that all you have to do is loosen them from the pallet and set them into place. Please measure doorways and other entryways prior to installation so that your facility will accommodate the new hoods.
Protector XL Floor-Mounted (Walk-In) Laboratory Hoods have panel liners that may be constructed of a variety of corrosion-resistant materials and supplied in three depths to meet individual installation and application requirements.
Our Walk In fume hoods are suitable for general chemistry applications and will accommodate oversized apparatus.
Standard widths are:
Widths of up to 16 feet are offered.  Custom depths/heights are also available.  Many of our hoods are available with either a vertical rising sash or horizontal sliding sash (patio door style).
We can also match up a proper blower for your custom Walk In Fume Hood at your request.
Custom epoxy resin floors are also available for your hood if you're concerned about drum spillage and leakage.
Protect your employees from harmful vapors with Chemical Fume Hoods!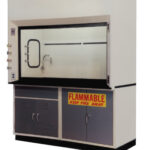 All of our chemical fume hoods are made to SEFA standards of a double wall construction and high-quality steel with a baked enamel paint finish. The fume hood sash is a full-view type providing an unobstructed view of the hood's interior and fixtures. You can also order a horizontal sliding sash for patio-door style operation.
You can choose a simple hood with just electrical outlets and a blower switch and light switch. We can also supply your hood with gas, air, vacuum, nitrogen, helium, steam or other gas outlets.
Your chemical fume hood can be designed to accommodate a cupsink or a full-sized sink for more intensive processes. Our hood tops are dished epoxy resin to keep spills in the work area.
You can choose from a variety of hood bases including wood, polypro, stainless steel, epoxy-coated steel, flammable storage and acid storage.
LabDS can provide the proper blower for your chemical fume hoods including explosion/spark resistant, acid-resistant polypropylene and PVC and epoxy coated steel.
All of our chemical fume hoods are made to order, so let us know if you need a special size or configuration. Generally speaking, our hoods are prewired and pre-plumbed at the factory for easy connection by your mechanical contractor in the field.
Below are just a few of the options/accessories you may choose for your chemical fume hood:
Remote control air, natural gas, vacuum, nitrogen, helium, steam, oxygen or other gases
Cupsink or other standard size sink
115v or 220v electrical service
Remote rooftop blower or inline axial blower
Acid, Flammable or standard chemical fume hood base options
Ceiling enclosure to conceal ductwork and other mechanical works
Custom Canopy Fume Hoods for any application in your lab!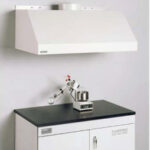 Canopy Fume Hoods are designed to vent non-toxic materials such as heat, steam and odors from large or bulky apparatus such as ovens, steam baths and autoclaves. Our canopy hoods are either wall-mounted or suspended from the ceiling; some have a built-in baffle to increase air velocities and enhance the overall capture efficiency. Most canopies are off-white epoxy-coated steel.
While there are standard sizes for canopy fume hoods, your hood can be fabricated to your specific size requirements. LabDS canopy fume hoods are usually made from epoxy coated steel, but we can also make them using stainless steel T304 or T316 for more demanding environments.
Our custom fabricated stainless steel Canopy Fume Hoods come with a brushed #4 finish and will give your lab that clinical, clean look.
Standard depth on most canopy fume hoods is 30″, but we can fabricate custom canopies in single units up to 96″w x 60″d. Going beyond those dimensions would require us to piece together the hood for you.
We also fabricate polyethylene canopy fume hood for the most demanding corrosive environments. White, stress-relieved polyethylene is the premium material for acid and corrosion resistance. Poly hoods are manufactured with no exposed metal parts.
Please specify your size and performance requirements so we can build the right canopy hood for your needs. We will need to know the size you want and the amount of airflow (in CFMs) that you need.
Let us help you size the blower for your new canopy. The total amount of airflow you'll need will depend greatly on how it's mounted and how many open sides there are.
Contact Us at Laboratory Design & Supply