We can provide you with a Lab Bench optimized for your needs
The adjustable lab bench by Laboratory Design & Supply is a basic component of most laboratories regardless of the size.  If you need a sturdy yet flexible adjustable lab bench for your research, educational or science laboratory, then here is one that can meet the basic needs of space management, adjustability and durability.  Our lab bench is the simplest and most cost-effective option for many lab managers and workers.  It is also designed for use in today's production and assembly environments.  Standard finish is gray.
LabDS prides itself on producing high-quality lab furniture and equipment. The adjustable lab bench was built with the user in mind, making it both user-friendly and efficient for your workspace. It meets the standard needs of all lab types.
Cost-efficient
Versatile option to meet various needs
Can fit in any size lab
Adjustable
Easy to assemble
High quality steel frames with warranty
Can be shipped, fully assembles
Easily equipped with accessories such as lighting, electrical, monitor arms, bin rails and keyboard trays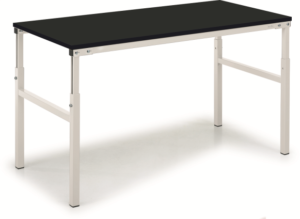 Our adjustable lab bench series is easy to assemble in the field, but Laboratory Design & Supply does offer on-site installation services as well to most locations.  Ask your sales engineer about installation services pricing.  Sales engineers are available by calling 770-932-1118 or email.
Contact Us at Laboratory Design & Supply