Custom Designed Flexible Modular Casework Systems To Meet Your Needs!
Laboratory Design and Supply can custom design a flexible modular casework system for your laboratory. You will work directly with our design engineers to formulate a plan that includes casework, tops, fixtures, suspended cabinets, wall cases and other integral pieces that will allow you to customize your workplace.
This custom option allows you to make your space your own. We carry your vision directly into your lab furniture. Flexible modular casework can serve the purpose of any lab from chemistry to education and everything in between.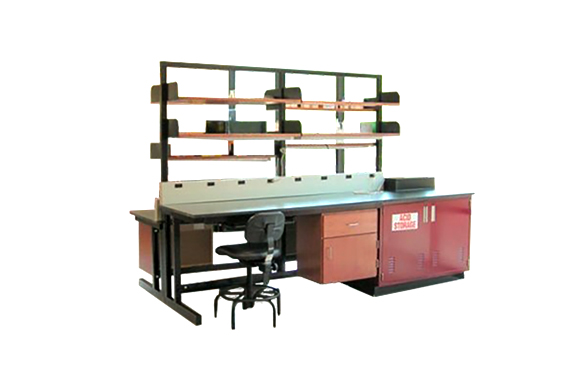 Custom Designed
Expert engineers
Meet the desired look for your lab
Your flexible modular casework project can include components such as articulating computer monitor arms, electrical raceway systems for both phone and data, adaptable gas delivery systems for gases including air, vacuum, nitrogen, argon, oxygen and steam etc. We also utilize suspended base cabinets with regularity, making cleaning very easy.
Facilitates easy installation of utilities
Reduces the total costs of reconfiguring existing spaces in the future
Reduces the initial installation costs
Allows you to utilize suspended, floor mounted and mobile casework design styles
There are other reasons to use a flexible modular casework system. The advent of the Information Age resulted in the need for each and every workstation to be equipped with access to computer and telecommunications power sources and networks, often creating an unsightly abundance of cables, outlets and extension cords.
The role of any building's cabling infrastructure is to provide occupants with voice, power and data connections capable of meeting not only present requirements but also the inevitable yet unpredictable future equipment upgrades, expansions and innovations. According to Moore's Law the computing power of microprocessors doubles every 18 months. Consequently, it is difficult, if not impossible, to plan with any certainty the technological restructuring a company will undergo over a period of, say, 5 years. It is possible, however, to install a cabling distribution system whose inherent flexibility and routing options provide the potential for accommodating such unanticipated changes.
Facility Managers look for economical, practical and aesthetic means of routing cables throughout a building. Cable distribution options (see appendix) include loose cabling, surface raceways or baseboards, overhead cable trays, poke-throughs, and raised floors. Often a combination of methods may be utilized. In addition, facility managers must also accommodate the ducts, grilles and other air-distribution equipment related to a building's HVAC system. When raised floors are employed solely for cable management, thereby necessitating the installation of a conventional ceiling-based air distribution system, floor to ceiling heights, space planning and future maintenance are restricted by the need to accommodate both an underfloor plenum and ceiling plenum within a typical office floor.
Contact LabDS today, and let us quote your custom flexible modular casework project. Call us at 770-932-1118 or email to arrange a conference with our design engineers.
Contact Us at Laboratory Design & Supply