Protect Your Employees today with LabDS Pesticide Storage Cabinets!
Pesticides are regulated as hazardous waste when disposed of. Improper pesticide storage and disposal can be hazardous to human health and the environment. Keep all pesticides in a pesticide storage cabinet in a well-ventilated utility area or garden shed.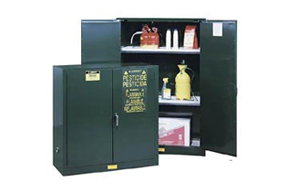 Pesticide Storage Cabinets provides safe, secure and controlled storage for pesticide products. Farms, nurseries, parks and recreation facilities can safely store pesticide chemicals and equipment. Proper pesticide storage helps restrict the handling of pesticides to those who have been appropriately trained and authorized per EPA/WPS. Choose the model to segregate and securely store up to 120 gallons of product.  Helps you meet OSHA requirements for safe handling of pesticides by employees.
Pesticides present a substantial danger to people and the environment when improperly stored. Pesticide Storage safety cabinets that are specifically designed to house these types of chemicals offer features including sturdy double-wall, 18-gauge steel construction with 1.5″ of air space and dual flame arresting vents. Three-point automatic latch with keyed lock prevents unauthorized access. Steel shelves, fitted with corrosion-resistant polyethylene trays, are adjustable on 2.25″ centers to accommodate a wide variety of containers.
Pesticide Storage Cabinets Uses:
Golf Courses
Lawn care companies
Park Districts
Nurseries
Farms
Amusement parks
Exterminators
Cemeteries
School campuses
Home use
LabDS offers a wide variety of pesticide storage cabinets to meet your needs.
Contact Us at Laboratory Design & Supply