Phenolic Casework to Add Professionalism to your Laboratory
LabDS Phenolic Casework is made from solid phenolic panels that have been thermo-fused under heat and pressure to form a solid black chemical resistant phenolic core. Base lab cabinets provide a removable back panel for easy access to the service chase.
The drawer slides are self-closing and epoxy coated. The hinges are 270 degrees, heavy-duty 5 knuckle institutional type with a baked-on black epoxy finish to match the black nylon wire pulls.
Our phenolic casework should be used wherever strong chemical and/or corrosion resistance is used or required. LabDS offers a variety of color choices and can supply solid phenolic resin lab countertops to accompany your lab casework and cabinets.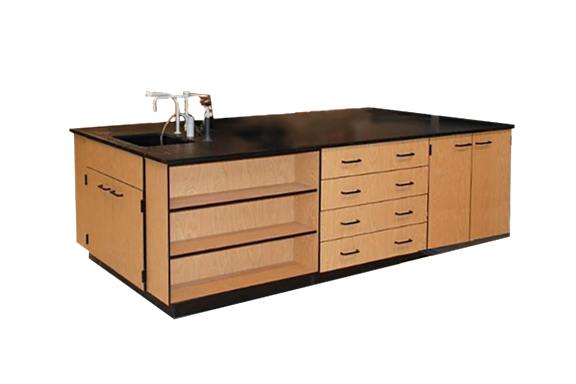 Phenolic Casework Benefits:
Super Strong, Double Tough Phenolic Core Material
Variety of color choices including a wood grain option
Resistant to many acids and solvents
Very durable in high moisture content areas
Available in a large variety of door and drawer configurations
Rust Resistant
Suitable for all areas of the lab/hospital including lockers, operating suites, central sterile areas, nurse stations and dialysis treatment wings
All cabinet fasteners are concealed for aesthetic purposes
Self-closing drawer slides
Removable back panel for easy access to rear chase area
Durable black nylon wire pulls
Heavy-duty institutional black epoxy coated hinges with 270-degree movement
Impact-resistant
Long term superior value product
Virtually maintenance-free for life
Easy to clean and maintain
Will not absorb odors
Custom cabinet designs are available
Ships using a padded van carrier, blanket wrapped for superior protection
Phenolic Lab Casework Door and Door Configuration
Contact Us at Laboratory Design & Supply