Top Quality School Science Casework and School Laboratory Furniture
Laboratory Design and Supply is your source for school science casework. LabDS can provide the science laboratory casework to meet your needs from kindergarten all the way through high school to the college and university level.
Whether you need a single teacher's workstation or several floors of lab casework, LabDS will equip you with the finest in cabinets, laboratory countertops, fume hoods, lab fixtures and the installation expertise you've come to expect.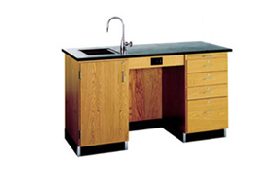 Student tables with a variety of laboratory countertop choices
Mobile science tables with drawers underneath
Service islands with sinks and fixtures
Student workstations serving up to 16 students
LabView student workstations
Trifacial workstations
Octagonal workstations
Motorized LabView workstations with electrical service
Mobile demo carts
Demo mirror units
ADA compatible mobile lab stations
Mobile tray storage cabinets
Mobile microscope storage cabinets
Tote tray storage cabinets
Solid oak book trucks
Wall and tall cabinets in many sizes and configurations
Many of these items are available on our Fastrak delivery program that would ship out in 7 business days.
LabDS School Science Casework products meet strict AWI certification and SEFA certification so you can be sure you're getting the highest quality science casework products.
We offer full overlay, lipped and f-style pull casework to meet your particular architectural needs. Red oak, maple, and other woods are available for your laboratory casework. With 10 standard finishes and custom finishes also available, you're sure to find the look you need for your lab space.
Two-year warranty against materials and manufacturing defects
All items meet SEFA 8 requirements
All items have AQI QCP certification
All cabinets individually packaged from the factory
Drawer bodies fill the drawer openings
Cabinet end panels are made of veneer core plywood, not particleboard plywood
All drawer and door fronts are made of AWI-approved materials
All doweled units use wet-glue dowels, not pre-glued dowels
All top frame rails are made of actual lumber for strength
All drawer slides are rated at 100 lbs for both static and dynamic load-bearing
These are just a few reasons to choose LabDS for your school science casework project.
Call 770-932-1118 or email for more information.  Our Lab Consultants are ready to help you plan your next school science casework project.
Contact Us at Laboratory Design & Supply