Custom Stainless Steel Casework & Cabinets for your Lab
Custom Stainless Steel Casework is ideal for wet lab environments and is extremely durable for the long run. Wire pulls are standard. Cabinetry fabricated from T304 stainless steel sheet, (T316 stainless steel available at additional cost) cold-rolled and stretcher leveled, conforming to ASTM A240. All exposed exterior surfaces polished at a No. 4 brushed satin finish (150/180 grit).
We can supply sitting or standing height base cabinets, wall cabinets, tall storage units, table frames, table leg sets, and other specialized custom stainless steel units at your request. Our stainless steel products are made to the highest standards. LabDS can also match your cabinets with stainless steel countertops for a completely stainless steel lab environment.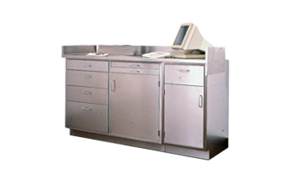 Benefits of Stainless Steel Casework:
Reflects light and further illuminates the room
Extremely durable and stain resistant
Standard sinks are integral, one-piece designs
Integral cove curb backsplashes are standard
Easy to clean
Stain resistant
Will not chip or fade
Rust resistant
Adaptable to any color scheme or decor
Fingerprint resistant
Non-porous materials for superior infection control
Will withstand aggressive cleaners including bleach dilutions
Absence of painted surfaces eliminates concern for flaking
Stainless steel is 100% recyclable
Our stainless steel casework units are different from traditional millwork because components can be reused. This means when you move or reconfigure your space you don't have to dispose of your casework or cabinets; instead, you can reuse them.
What it really means is that you will save money by investing in this sustainable furniture solution instead of spending more money on built-in millwork.
For more information about custom stainless steel lab casework, please call 770-932-1118 or email
Contact Us at Laboratory Design & Supply