Acid Resistant and Chemical Resistant Polyolefin Sinks for all Lab Environments
Laboratory Design and Supply offers a wide variety of lab-grade polyolefin sinks for your application. If your lab regularly uses heavy, concentrated acids like nitric, hydrochloric, perchloric and hydrofluoric, then you would benefit from having polyolefin lab sinks for washing your glassware.
We have a variety of single and double sinks. Some are available in center or corner drain styles with integral waste tailpiece.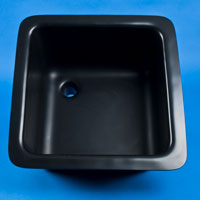 Our polyolefin sink offerings are available for download here in pdf format:
Our black polyolefin sink often has available for quick shipment. Please contact us for further information and availability at 770-932-1118 or by email.
Contact Us at Laboratory Design & Supply