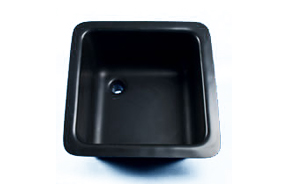 Laboratory Design and Supply offers a wide variety of lab-grade polyolefin sinks for your application. If your lab regularly uses heavy, concentrated acids like nitric, hydrochloric, perchloric and hydrofluoric, then you would benefit from having polyolefin lab sinks for washing your glassware…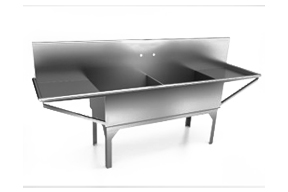 Laboratory Design and Supply offers a wide variety of stainless steel sinks for every possible application. We offer undermount, drop-in, round and cup sink styles in many different sizes and depths. We also offer integral stainless sinks when ordered with a stainless steel countertop…
We offer Epoxy, Stainless Steel and Polyolefin Materials as Options for your Lab Sinks
Laboratory Design and Supply offers a wide variety of lab sinks for every possible application. They are made of high-quality material to meet every style and use. Depending on your work and materials, we have lab sinks that will work best for your lab.
Features and Benefits:
Made from resistant material
Long-lasting
Multiple options for materials and finishes
Varying styles
Materials
Epoxy resin is the most popular laboratory sink material and is highly resistant to many acids, solvents and other inert chemicals found in both commercial and educational laboratory settings.
Epoxy sinks are available in all the same colors as epoxy tops. We offer a wide variety of both drop-in and undermount (requires a sink support system) lab sinks to fit most every need. We also have available hard-to-find lab sinks such as trough, round, ADA, end and polypropylene styles.


Stainless Steel works great in many laboratory settings, especially where acids and corrosives are not present. We have all styles of stainless steel sinks available in both T304 and T316 as well as both undermount and drop-in options. If you purchase stainless countertops from LabDS, we will provide integral, one-piece stainless steel sinks with the project.


Polyolefin Sinks provide the premium acid resistance that your corrosive environment needs. Choose from top mount and undermount styles. The most popular color is black, but there are more finishes from which to choose.
Many of our lab sinks are available for quick shipment. Please contact us for further information and availability at 770-932-1118 or by email.
We install Laboratory Faucets for functionality and looks!
Laboratory faucets are a staple part of any lab. We offer high-quality lab faucets that pair nicely with any sink or countertop. Our faucets meet any need or look that you desire for your lab.
All of our laboratory faucets are made in the USA.
Please contact us for a free quote by phone at 770-932-1118 or email.
LabDS has Laboratory Fixtures for every need
Laboratory Design and Supply offers a complete line of laboratory fixtures for every need in your labs. We have outlets for gas, air, vacuum, nitrogen, acetylene, oxygen and many other gases.
We also have laboratory fixtures that feature a coating that protects the finish of the fixture over time in the presence of acids and other corrosive materials. Our coatings come in clear, white, black, blue, green, red and a few other finishes.
We also have Watersaver brand ColorTech laboratory fixtures which are designed to update your lab environment and bring some color and style to the room. All ColorTech fixtures are epoxy resin coated for their protection.
We focus on efficiency as well as style. We want your lab fixtures to not only serve their working purpose, but stand out as a main focal point in your laboratory. At Laboratory Design & Supply, we produce high-quality lab fixtures.
Outlets for gases
Many options for coating
Designed for use and style
Energy efficient
Quality, long-lasting gas fixtures are a key in keeping your lab up and running for months at a time. That's why LabDS specializes in superior quality fixtures from Watersaver. Watersaver is top-of-the-line when it comes to lab fixtures and safety equipment.
Many laboratory fixtures have availability on a quick ship program, so contact us about lead times.
Call us today at 770-932-1118 or email for more information or a custom quote. One of our fixture specialists will be happy to help you.
Contact Us at Laboratory Design & Supply