Laboratory Design and Supply offers a wide variety of stainless steel sinks for every possible application. We offer undermount, drop-in, round and cup sink styles in many different sizes and depths. We also offer integral stainless sinks when ordered with a stainless steel countertop.
The most popular grade of stainless steel is T304, but you can opt for T316 stainless steel if you want greater durability.
If you are in need of a stand-alone scullery sink, we can accommodate you. We have numerous sizes available, or we can design a custom scullery for you.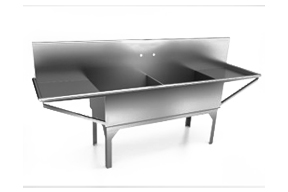 Stainless Steel Sinks Benefits
Resistant to many types of corrosion
Fire and heat resistance
Hygienic and non-porous
Easily cleaned and maintained
High strength compared to its lightweight
Can be cut, machined, welded, fabricated and formed easily
Industries Commonly Using Stainless Steel Sinks
Food research
Food manufacturing
Blood science labs
Central sterile processing area
Pathological science areas
Catering
Nuclear imaging and related sciences
Air & water pollution control
Power generation plants
Pulp & paper manufacturing
Continuous digesters
Oil and petrochemical manufacturing and processing
Downloadable Stainless Steel Sinks Spec Sheets (pdf):
Stainless steel sinks resist corrosion in aqueous, gaseous and high-temperature environments, maintain their mechanical properties in all temperatures and their long-term value attribute allows for substantial cost savings. In these applications, the use of acidic, toxic and flammable chemical combinations can rapidly deteriorate traditional sink/drain systems.
Please contact us for further information and availability at 770-932-1118 or by email.
Contact Us at Laboratory Design & Supply