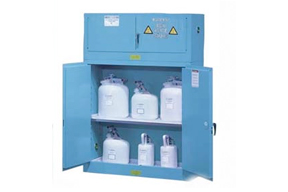 Our Acid Storage Cabinets come in standard 30, 45, and 60-gallon sizes as well as Countertop, Undercounter and Piggyback styles. All models feature the same quality features including double-wall construction, dual vents, grounding wire connections, adjustable shelves, leakproof sills,..
We offer Specialty Lab Cabinets Types for all of your Lab Design Needs
Specialty Lab Cabinets can include narcotic and specimen cabinets as well as cabinets for storing acids, pesticides, paint and flammable substances. The construction and finish on these cabinets is specially designed for highly flammable and corrosive chemicals.
Compliance with the National Fire Protection Act (NFPA) is essential as is compliance with EPA and OSHA workplace safety regulations and guidelines. Our specialty cabinets are labeled accordingly in order to keep your employees safe when handling these potentially dangerous substances.
Many labs are highly specialized according to the industry or product they are working on. It is important to have lab cabinets that are specialized for that purpose as well. We produce high-quality lab cabinets for any and all needs.
Specialized for industry/product
Safe
Compliant to federal standards
Toluene
Xylene
Nitric Acid
Acid
Alcohol
Hydrofluoric Acid
Gasoline
Butane
Roundup
Paint
Paint Thinner
Acetone
Contact Us at Laboratory Design & Supply